Home
WELCOME TO YOU'VE BEEN STORKED
Birth Announcement Yard Signs to welcome your new baby home
Your baby deserves a memorable welcome home. You've been storked offers the finest birth announcement yard signs in Autauga County, Elmore County, Montgomery County, and Chilton County. Our 6-ft stork comes with a personalized bundle that is left behind for the family to enjoy at the end of the rental period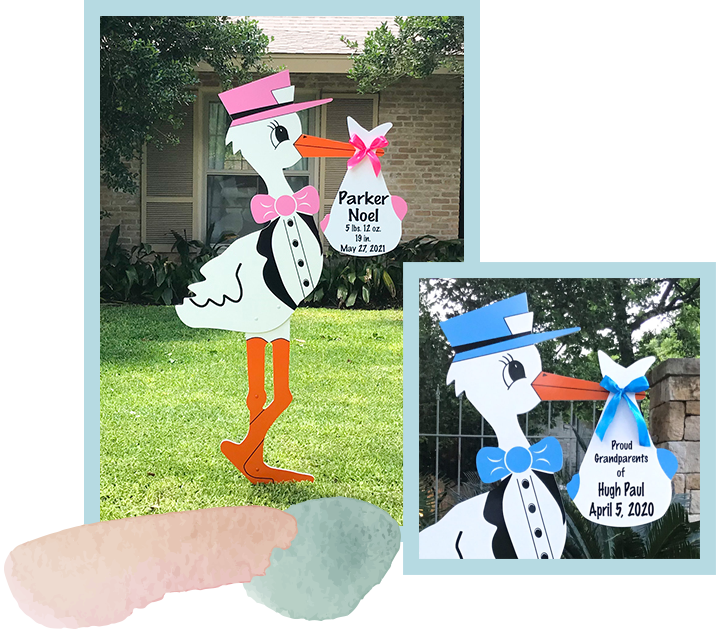 Create Beautiful Memories
Our 6-ft stork rental is the perfect way to surprise the new mother and welcome the new baby home from the hospital. Besides, it provides a perfect opportunity to create photo memories for years to cherish.
Grandparents need not be left behind. They can rent their own storks to announce to friends and neighbors that they have a new grandbaby.
We also provide storks for rent for Baby Showers, Gender Reveals, and Sip & See Events.
Don't let the siblings feel left out
Don't let the siblings feel left out. Let them have their own sibling sign telling everyone that they are now the big brother or sister in the family. The signs are personalized and are left behind at the end of the rental period.
Fur and Feline babies are part of the family too. We provide pet signs – dog bone and cat sign for these special siblings.
The star sign can be used to include proud aunts, uncles or other family members to welcome the new baby.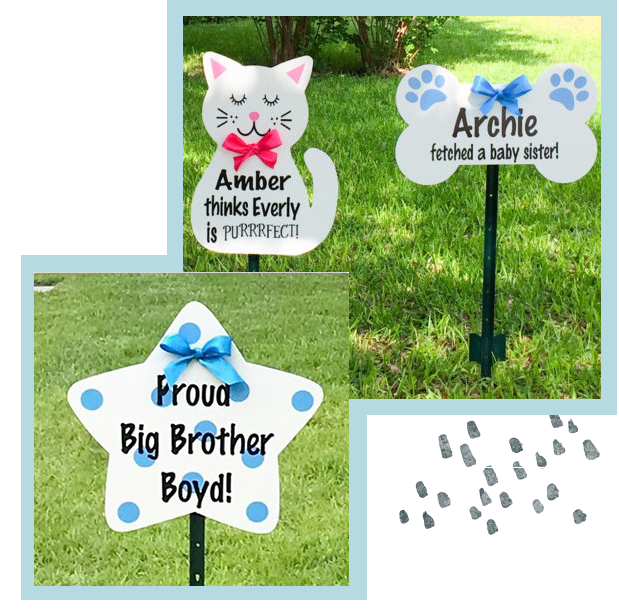 WHAT OUR CUSTOMERS ARE SAYING
Wonderful company, great communication, will continue to use again. Highly recommend!
We deliver to
Autauga County – Prattville, Deatsville, Marbury, Autaugaville, Billingsley, Pine Level, Booth
Elmore County – Millbrook, Wetumpka, Eclectic, Deatsville, Holtville, Coosada, Elmore, Tallassee
Montgomery County – Montgomery, Pike Road, Hope Hull,
Chilton County – Clanton, Maplesville, Thorsby, Jemison